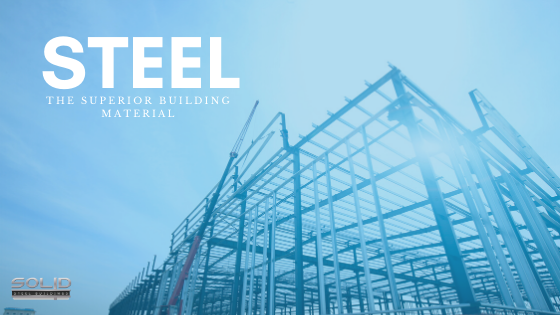 When it comes to choosing what material to use for your building, the number of options available can be daunting.  Some folks believe in wood, others block, but when it comes to the ultimate in durability, longevity and economy of scale, building out of steel trumps them all.  Architecturally speaking, steel offers almost unlimited options for design and tailoring a structure to your exact needs, and without the need for interior columns in most cases, building with steel maximizes interior space like no other. 
Steel is one of the strongest materials available and is almost 100% impervious to degradation if designed and erected with the proper means.  Galvanized steel will not corrode like other materials and can be trusted to outperform decades longer than wood or block.  Recent advances in engineering methods assure that steel structures are built to exacting specifications, taking the guesswork out of construction in the field and avoiding hazardous issues and mistakes long before construction even begins. 
With the available upgrades to a steel structure such as insulated metal panels, steel mezzanines, solid door and window systems and the like, a steel building is highly customizable allowing for security along with form and function at the same time.  The foundation systems used in steel buildings can be designed to make the best of the most challenging site situations, allowing for maximum cost savings over traditional construction methods in less time.  Also keep in mind the maintenance of a steel building, with the correct insulation package and basic upkeep, a steel structure allows you to focus on what you built the building for in the first place without having to think about ongoing costly maintenance issues. 
At Solid Steel Buildings no project is to big or too small, we have the knowledge and time-tested ability to design a building that is perfectly suited to your needs be it a backyard workshop or a large facility for manufacturing and everything in between.  Call us today to discover why steel is the superior building material and let's get building!