Leadership Team
As solid as our name.
Solid Steel is home to some of the most expert building professionals you will find anywhere.
We love what we do and we love the people we work with. We're a close-knit group who have been collaborating for years, bringing consistency and efficiency to every project. But there's more to each of us than that – we also have lives outside the office and away from the job site. Find out more about our leadership below.
Michael A. Masula
As C.E.O. at Solid Steel, Michael works hard to make certain that SSB over-delivers on customer expectations. His multiple responsibilities include managing Sales and Construction, as well as overseeing building projects and scheduling timelines. Additionally, Michael has a knack for implementing technologies that drive the back office at SSB, and he serves as the resident Building Design Guru.
Michael has over 20 years experience in IT and the Construction/Metal Building industry. He began his career in technology at a very young age and became a successful Sales Engineer during a time when the market began to change every day. Taking his skillset to the Steel Building industry, he saw that there were gaps in both products and services being offered by other companies. Michael set out to change that, and at Solid Steel Buildings, he prides himself on providing solutions, quickly responding to any project issues that may arise and getting things done for his customers (the right way).
In addition to being a go-getter, Michael is a true family man. Outside the office Michael enjoys spending time with his daughter, golfing, as well as grilling, and smoking food on his Big Green Egg.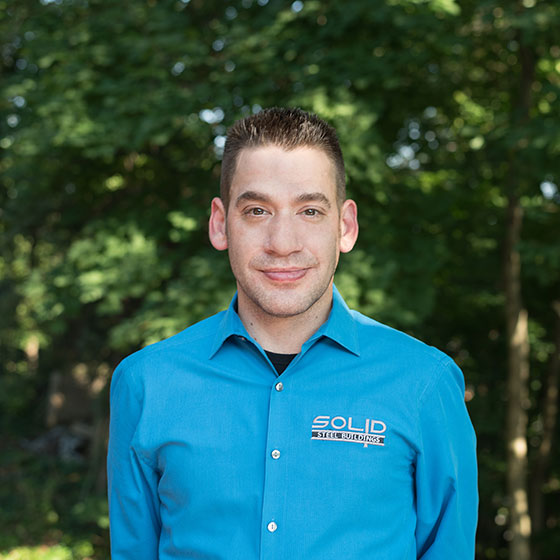 Adam Kitta
Adam works hard to establish that the highest on-site action standards are followed as the Senior Field Operations and Safety Manager. This means the vast majority of his time is spent in the field on job sites during the actual building phase of projects. He ensures that the SSB team is in place and ready to go on time, and stays on schedule. He also stays current on best practices and certifications to ensure that SSB meets all OSHA regulations and operates using the highest safety standards.
Adam is the man who can answer most any question a customer might have about the building or construction in the field. He brings an upbeat and helpful attitude to every project, which stems from his love of whole building process from design to completion. He loves nothing more than handing the customer the keys at the end of the project.
Adam received training in Metallurgy and Machining for the U.S. Air Force, where he worked as a Fabricator. Since being in the service, he has gained a passion for working with metal and the world of metal buildings, which makes him a natural fit at SSB.
In his free time Adam can be found cooking for friends and family, attending sporting events, or working with the Air Force where is still in the Reserves.
Bob Pektas
Bob is a true champion of exceeding customer expectations as the Senior Building Solutions Manager. He focuses on each and every client's needs, looking for the smallest details so that he can avoid hurdles that might arise during the project. He brings a positive attitude to his work, with the perspective that there is always a way to get something done. He feels fortunate to enjoy what he does so much, noting that "if you love what you do, then it's not really work"!
Bob came to SSB after more than 20 years in Sales and Management. He has always strived to make contributions in his work that will count toward to the growth of the company, and the ultimate satisfaction of their clients.
Bob is a devoted family man who lives by the golden rule and the scout's motto, which is fitting for a man who is an Eagle Scout, and has his U.S.C.G. 50 Ton Master Captain's License.
In his free time Bob can be found camping, boating, scuba diving, hiking, and spending time with his wife and daughter. He likes to get away from the office to recharge, so that he can be ready to fully serve clients on Monday morning.
Maria Anthos
Maria excels as the Senior Operations Coordinator and Project Support Manager. Every project is impacted by her coordination and oversight as she works to help our crews get what they need, when they need it.
Maria brings over fifteen years of experience in field personnel management as well as in-house day-to-day operations for a large multi-national corporation. Thriving in high pressure situations has made her a well-rounded multi-tasker, capable of exceeding expectations. With a B.A. in Travel & Hospitality, Maria understands the need to clearly communicate so that customers, vendors and staff remain informed.
Maria is a dedicated mother and wife, believing the success of her position and the success of the company is a great tool for teaching her daughter the importance of a strong work ethic and solid morals. She enjoys traveling, making new, diverse friends and finding adventures and opportunities along the way.
In her free time Maria enjoys working on her new house, boating, quality time with her daughter and husband and experiencing life in a positive way, making each day better than the last.