What Is a Building Envelope?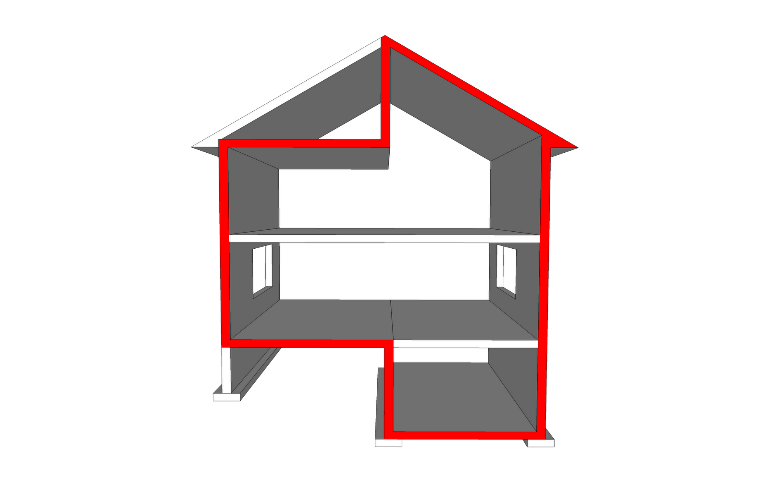 Lately, almost all my Projects have had to address the "Building's Envelope" to satisfy our client's local Permitting Office's energy requirements.  "What is a building envelope?" you may ask.
The building envelope, or shell, is the collective of several parts of the structure that work to enclose the interior environment and includes the roof, walls, windows, doors and foundation.  The purpose of the envelope system is multi-fold and includes ensuring structural integrity, controlling moisture, preventing thermal leakage and controlling air pressure boundaries. The enclosure begins in the ground with the footer, piers, frost wall and floor. It then extends out of the ground as walls, windows and doors and is ultimately capped with a roof.
All parts of the envelope must work together to achieve a common goal, of stopping the flow of air, water, cold and heat while still allowing the inevitable intrusion of water a way to dry out. The parts of the building where this balance is always the trickiest is where the roof meets the walls, the walls meet the floor and the floor meets the foundation.  When the design of these lines is uncertain, there will be a weak spot.  And where there is a weak spot, there is a potential break in the building's envelope which will allow wind, water, dirt, insects, rodents, etc. to penetrate the interior.
Each part of the envelope has unique challenges that must be accounted for in a proper design.  A roof is bombarded by the sun, cold, heat, rain, snow, wind and hail. Walls contend with most of the same conditions, to a lesser degree. Walls have more weak links, such as doors, windows, signage and decks. Foundations see very small temperature swings because they're buried underground but, unless you live in the desert, the ground is always wet, and that water is always pushing its way in. Water in the soil will wick all the way up to the roof framing if you let it. Capillary breaks such as brush-on damp-proofing, sill sealer, and rigid insulation block this process.  Many considerations must go into each component of the building to create a proper envelope.
It is vital to create an air barrier, a thermal break, a controlled internal environment, sealed seams and a few other components to be considered a true envelope in all steel structures.  An air barrier is the sum of many parts and consists of materials assembled and joined together to prevent air leakage between the conditioned space and unconditioned space — aka, the inside and outside. A typical air barrier incorporates more than a dozen materials, including some or all of the following: poured concrete, sill seal, wall sheathing, wrap, mastic tape, caulk, spray foam, gaskets, window glass, drywall, polyethylene, weather-stripping, etc. If any of these materials are leaky, the building's air barrier may be compromised.
A Federal guide has been developed for the exterior envelope design and construction for Federal Institutional, Federal Office Buildings, etc.  This guide has been adopted by most State and Local Permitting Offices either as a general guide or as the official regulations.  Since more strict requirements have been applied to all Construction through local Permitting Offices, that equates to my clients having to spend more money on the building's materials to get the final Permit to Build.
Unfortunately, many companies in my industry either do not possess the knowledge or choose to ignore properly addressing these building envelope requirements.  When my counterparts at other companies are speaking to customers who are entertaining the idea of building a steel structure, they readily quote a building with 6" (R-19) roof insulation and 3" (R-10) wall insulation even though they know there is NO WAY these minimum R-factors will EVER pass Permitting.
Why is that sort of behavior being conducted in my Industry?  The answer is simple, many companies strive to appear that they are giving the best cost and rely on the customer not thoroughly reviewing exactly what is included for the price.  Everyone wants to spend less money, right?  First-time builders look at a quote that has the building, drawings, gutters, doors, windows, insulation, and delivery all included and think, "That is a price that fits my budget." Unfortunately, they are soon to find out that the insulation does not meet the Building's Envelope Requirements.  Now they have an unexpected expense to upgrade the insulation.  And this is when the unsuspecting, trusting customer gets whacked over the head with a brutal change-order.  This problem is usually compounded when the customer realizes, in many cases, that the building does not have a full trim package, the doors are chintzy, gutters are sold to them without the downspouts, screws aren't included, mastic tape is not included, and the list goes on of potential costs the customer thought were all included.  Leaving these items out of the initial building sale and then issuing change orders to the customer later is just an unfortunate way that many companies try to make profit.
Back to the Envelope…. When you are planning, preparing and investigating on what Steel Building Provider you are going to engage to help you fulfill your dreams of constructing a new building for your business, please do two things to protect yourself as a consumer.
Do your due-diligence with your local Permitting Office and verify what your Building Envelope Energy Requirements are going to be.  Verify your local office does not have a "one-off" law requiring something that no one would know is required.  For example, one time a building required an 8" curb around the perimeter per the Building Inspector on every building in his township.  That was the Inspector's preference and there was no way around it.  I didn't know what I didn't know and my client didn't know either.  It cost my customer more in concrete to create that curb.  And unfortunately, it was an unexpected expense.
Only work with Steel Building Representatives that mention to you that you will have a minimum Energy Requirement. A Representative that mentions your minimum requirements is more concerned about your Investment than about grabbing a building deposit check.  A Representative who shares his or her knowledge with you, even though it may not be what you want to hear, or prevents you from building because the requirements kill the budget, is an honest Representative.
So, please reach out to your local officials and ask, "What are my Building's Envelope Energy Requirements?" And, "Are there any requirements a first-time builder in the area wouldn't know that I need to know?"
Good Luck and Happy Building!!!