Our Process
A solid experience from start to finish.
We didn't come up with our process overnight – it's been
decades in the making.
We have developed a comprehensive process which takes every aspect of a project into account. As we've built our expertise, we've developed and refined this method, and it provides the best results in the industry. Our approach is built on a few basic principles – Open communication, clear expectations, specific goals, honesty, and trust. We love our customers so we don't just build steel structures, we build relationships.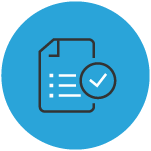 Planning
Our process starts with a conversation. We want to learn who you are, what you do, and how we can help you accomplish your goals. We'll discuss your vision, ascertain possibilities and understand how fast you want changes to happen. Then, we get to work laying out the strategy behind how our team will help move your project forward. From budgeting and financing your metal building to researching your site's zoning and code requirements, we leave no stone unturned to make sure that your project is primed for success.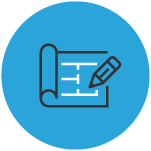 Design
Seeing is believing, right? With planning and prep out of the way, our in-house design professionals work alongside your team to bring your vision to life. Our function-focused design approach takes what we've learned and applies it to your building's design – making sure every inch of your floorplan works toward achieving your organization's goals. We will deliver a more formally defined scope of work and you'll see your vision take shape on paper and in state of the art 3D computer aided images. We'll discuss what is possible for your space, get real with you about costs, flag any concerns and forecast realistic timelines – all before we ever break ground.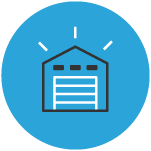 Build
Now comes the exciting part. After you have accepted the drawings and design, our Engineering and Detailing team get to work on the fabrication and delivery of your steel building. All the while, our onsite crew will start getting your site ready for when your building arrives. Once the deliveries are reviewed and we have everything in order, our crew gets to work. Sit back and watch your building take shape as your Project Manager takes the reins. Our state-of-the-art construction software that helps you track your building as it starts to become a reality with columns set and girts, rafters and purlins are installed. As we reach the end of construction, we'll work through little issues as they arise and make sure your building lives up to our standards.