Visions and Values
Solid vision and strong values.
At Solid Steel Buildings, we believe a company's values are defined by the individuals who work there. These are our values, and they shape everything we do.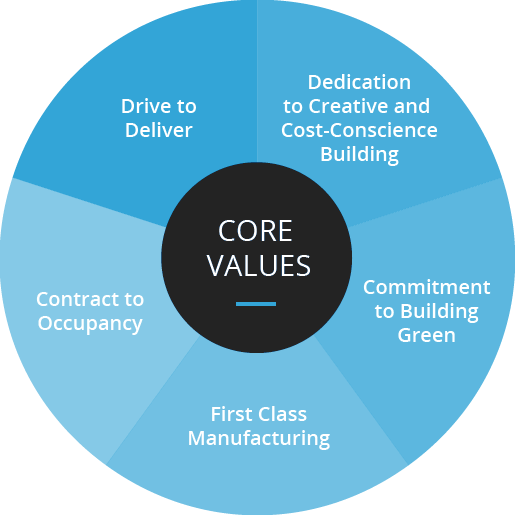 Drive to Deliver
We believe that relationships take time to build. That is why we make a commitment to all of our customers to provide superior service and the highest quality products. Each and every member of Solid Steel Buildings is dedicated to ensuring customer satisfaction.
We start by listening to your specific needs, taking time to identify the motivations behind your dreams and visions for your building because we know that you, our customer, are the key to our success.
Dedication to Creative and Cost-Conscience Building
We know that one of the primary concerns for any project is budget. Not only are we aware of this, we embrace the budget, using it as a driving force for finding creative solutions. We spend as much time as necessary to understand the entire project scope and the building's requirements.
Our custom-tailored design process then allows us to create the perfect building for you and your budget, as we develop the most efficient ways to keep costs where they need to be.
Commitment to Building Green
At Solid Steel Buildings, we are committed to energy conservation and environmental building practices. It's better for us, better for our customers, and better for the earth. Steel is actually one the greenest building materials due it generating less waste, and being easily recycled.
We also offer many solutions to reduce ongoing energy use after the building is complete.  Our philosophy is "insulation is cheap, energy bills are expensive" –  you pay for insulation once, and heating/cooling forever. The savings can be so significant, that sometimes it only takes about a year for you to see a return on your insulation investment.
Find Out More About Our Green Building Practices
Learn More
Contract to Occupancy
Our comprehensive approach to projects ensures that our customers are kept informed every step of the way, and we are always here for you. Information and quick responses keep our customers in constant contact with our project managers and building team.
We do this using of our in-house project management software, custom-designed for every Solid Steel Buildings customer. Having these systems in place helps us maintain 100% customer satisfaction.
First Class Manufacturing
Solid Steel Buildings is a First Class Manufacturer's representative. Every factory we represent and partner with is a member of the Metal Building Manufacturer's Association and is International Accredited Service 472 accredited. Our Canadian Manufacturers are Canadian Steel Association A660 certified as well.
Every single one of our metal buildings are sourced at a single location from start to finish, ensuring a manufacturing process that is always worry-free and first class in the industry.
Learn more about our buildings and request a quote.
Get Started