3 Insider Tips To Improve Steel Building Efficiency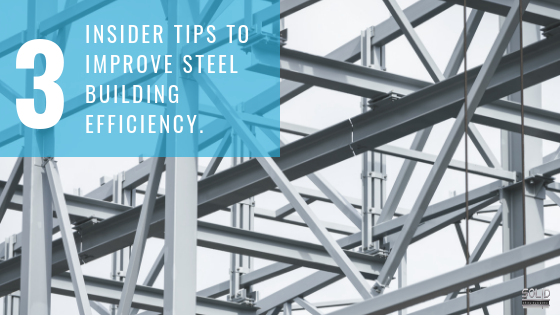 The dictionary defines efficiency as "achieving maximum productivity with minimum wasted effort or expense."
So how does the definition translate into the world of Solid Steel Buildings?
At Solid Steel, we believe in three core principles when it comes to achieving maximum efficiency.
#1. Deploy Standards-Based Solutions
Our solution-driven process begins from the moment we share our first conversation.
Our checklists provide a comprehensive overview of your project, starting with why you need a building in the first place all the way down to the basics of design in order to maximize your budget and ensure we are following your visions while providing you with solutions that make sense.
We are methodical in our approach, allowing us to leave no stone unturned for a complete picture of your needs as well as your concerns.
#2. Critical Path Scheduling
Obviously, the cart doesn't come before the horse.
From the first draft drawings through stamped engineering, fabrication, delivery and erection, our teams carefully map out every phase of the building process to ensure every detail is accounted for, avoiding surprises and potential pitfalls.
Our Building Solutions Managers work closely with our clients to develop timelines and production schedules that make sense for your project.
#3. An Integrated Process for Streamlined Manufacturing
From the home office to the factory floor and beyond, Solid Steel Buildings maintains a high level of communication with personnel involved in the creation of your building.
Project specific meetings on a recurring basis between the fabrication teams, estimating department, project management, construction teams and senior management assures that your building moves smoothly from one phase to the next.
And we take special care to minimize labor costs, wasted materials and provide more accurate forecasting at each step of our process.
At the end of the day, it is vitally important to weigh out every variable when starting your steel building project. At Solid Steel, our experience has taught us to methodically concentrate on key portions of the project at just the right time.
We feel this is efficiency at its best, allowing us to be a Building Solutions Provider capable of providing service that is second to none. Give us a call to discuss your next project. We look forward to working with you.