The Surprising Value of Building With Solid Steel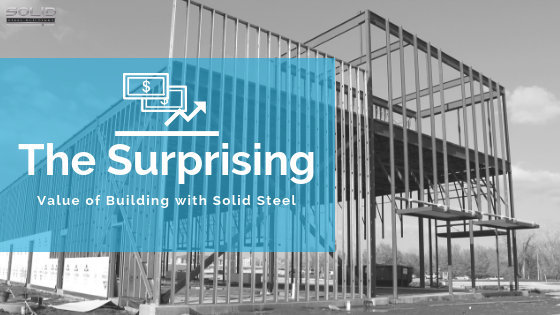 In our last blog, we wrote about the flexibility of steel structures. This week we will focus on the value, as in lower costs than conventional construction methods, time frames, and overall costs, as well as how Solid Steel works to make sure your project comes in on time and on budget.
Why Pay More When You Could Pay Less?
Would you pay $60 per square foot for the exact same footprint and functionality when you could pay 30 or even 40-percent less?
Of course you wouldn't!
Today's steel structures, just by the very nature of being pre-engineered, are increasingly becoming preferred by both contractors and end users alike!
A typical 100' x 100' x 20' structure constructed of steel is usually between $18 – $30 per square foot, depending on exact materials and finishes. And this includes the erection and concrete costs!
Compare those numbers with other methods of construction, and it becomes crystal clear why steel is the obvious choice for cost-savvy construction experts!
Streamline Efficiency with Value Engineering
Cost aside, another bonus of building with steel is the opportunity to optimize design, allowing for maximum cost effectiveness achieved through value engineering.
Your building is detailed long before manufacturing starts, allowing for the most efficient design, translating into the lowest price per pound based on current raw steel pricing.
At Solid Steel, we believe in zero waste. We proactively look for any opportunity to maximize each dollar of your investment, resulting in a well thought out, smoothly executed construction schedule that also lowers labor costs.
Added-Value with the Solid Steel Patented Helical Pier System
At Solid Steel, we also think hard about the foundation design as this often the most costly portion of the project, and we always try to look for ways to use the soil conditions to your advantage.
One way we achieve this is by using our patented Helical Pier System, specifically designed for steel structures!
Your Solid Steel Building Solutions Manager can discuss this system with you to determine if it is a good fit for your project. Often, we can save our clients up to half of the costs of typical foundation / slab systems if applicable in your area.
Putting State-of-the-Art Software to Work for You
We don't let workflow interrupt our process. We utilize state-of-the-art construction software that helps you track and manage every aspect of your project from quote to occupancy.
This valuable piece of our toolkit helps us keep track of even the smallest financial and budgetary items. We provide daily reports showing how the project is progressing, and proactively spot issues before they happen.
Now you can see how valuable utilizing Solid Steel can be when moving forward with your new project.
Give us a call today and let's start building!