The Flexibility of Steel Will Blow Your Mind!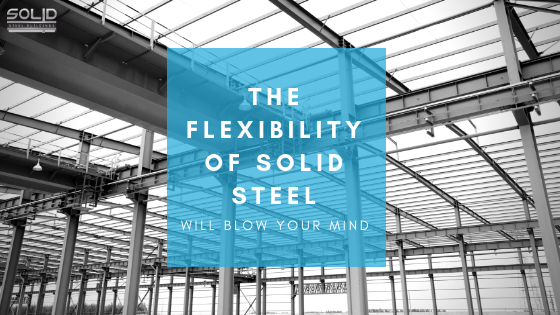 Welcome back to our blog!  This week's topic will focus on the "flexibility" of steel structures.
Although steel does physically "flex" – as it's designed to do just like any other form of construction, the flexibility we are talking about is the kind that maximizes investment, speeds up the process from concept to occupancy, and gives an owner the ability to evolve their building with changes in the needs of their business.
A Lot More than a Metal Box
Until about the last ten years or so, your typical "steel building" meant a metal box that stuck out like a sore thumb amongst the blossoming landscape of other types of construction.
While maybe this was true decades ago, technology and the increasingly exacting demands of the end user have taken steel structures leaps and bounds forward in many aspects, both in the construction methods and materials utilized, making today's steel structures far superior than their distant cousins of back in the day.
Real Examples of Steel Being Not So Unsightly
What do we mean by flexibility?
While it would take us hours to go into every example, check out this latest case from right here at Solid Steel Buildings.
Our team is about to start construction on a two-story, retail and commercial space in Tampa, Florida.
The owners came to us looking for a pleasing building that satisfied the demands of the local gentrification in the up and coming area surrounding downtown Tampa, as well as having a signature structure inside and out that matches the look and feel of the premium products they sell to demanding homeowners as well as commercial clients.
Initially, the designers were under the assumption that constructing with steel meant unsightly interior columns and steel beams that were not the look they wanted. However after a few short meetings they quickly learned how we could transform their dream into reality.
We worked closely with a team of interior designers and engineers to create the aesthetics desired both inside and out, and we were able to adjust the engineering of the structure down to the smallest detail to accommodate the design team at every request, utilizing architectural exterior panels, interior ceiling liners, non-standard column tapering, and a mezzanine system designed to meet their needs.
In the end, this project will prove to be a showpiece, all the while adhering to local building codes as well as the demanding environmental concerns of the south Florida environment, and probably one of the most important aspects, brought in at a cost of about 30% below conventional construction methods.
When it comes to Solid Steel, the Sky's the Limit!
As you can see from the example above, a custom steel structure can be engineered to exacting standards of owners, as well as the demands of local municipalities, no matter if it's a retail space, industrial warehouse, or essential facility.
At Solid Steel We're all about solutions. While we can and still do provide many, many types of buildings from basic back to complex, the "flexibility factor" is only limited by ones wants and needs. Offering our customers choices is a key ingredient to our own thriving success.
Building owners come to us with a dream, an idea, or a requirement to upgrade—and we offer a menu of options to meet every preference, scope and budget. Solid Steel is flexible and agile, just like the choices we offer.